Comparison
Comparatif de supériorité

Comparatif d'infériorité

Comparatif d'égalité

Superlatif de supériorité

Superlatif d'infériorité

plus… que

moins…que

aussi…que

le plus…

le moins …

Adjectifs courts

(une syllabe)

adj + er (than)

cheaper

less adj. (than)

less cheap

as adj. as

as cheap as

the adj-est

the cheapest

the least adj

the least cheap

Adjectifs 2 syllabes terminés par -y, -er, -ow,-le

adj + er (than)

roomier

less adj. (than)

less roomy

as adj. as

as roomy as

the adj-est

the roomiest

the least adj

the least roomy

Autres adjectifs de 2 syllabes et plus

more adj. (than)

more expensive

less adj. (than)

less expensive

as adj. as

as expensive as

the most adj

the most expensive

the least adj

the least expensive
Exceptions:
Good/well better (than) the best
Bad worse (than) the worst
Far farther (than) the farthest
further (than) the furthest /sens figuré/ figurative language/
Ex: should you require any further information, don't hesitate to ask me.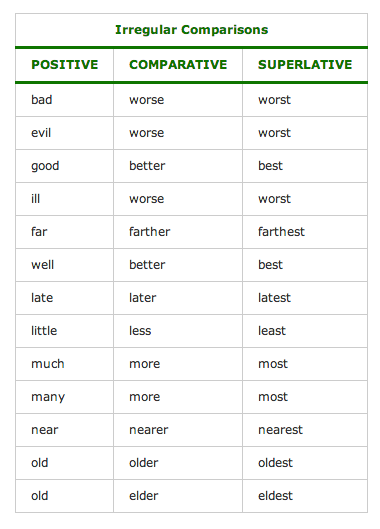 Source: http://www.weblearn.in/degrees_of_comparison/
More rules here!
And now train with exercises, here:)
Now, go to the following website to see how superlatives can be used to present a country.
Choose a country and make a presentation using superlatives!
Add a comment