Study abroad!
With money you can study anywhere in the world of course, but here I am going to give you some tips to go study abroad for no tuition fees at all or a reasonable amount of tuition fees.
After your HND in Tourism, you can apply for a Bachelor's degree in some countries.

England.
Rather expensive: 9,000£ a year in a university, but you don't actually pay upfront. You get a loan from the English state that you get to pay back once you earn more than a certain amount of money (around 22,000 £ a year).
Some private schools are much cheaper though, for example the London School of Business and Management: http://www.lsbm.org.uk/
On the other hand, if you just want to follow a language programme, it is MUCH cheaper and affordable than 9,000£.
Here is where to aplly and get information: http://www.ucas.com/
You need to apply in January, but if you haven't, or if you didn't get what you wanted you can apply at the clearing in the summer, all that is still available is offered at this time of the year.
Here is a video to know more about it.
Wales.
French people can benefit from a discount and only pay 30% on the tuition fees!! Thank you Lynda for telling me, I had no idea.
So the year comes to about 3,000£.
Scotland.
Actually free for European students who are not from the UK (except Scotland of course)!
Here is how to aplly for funding:
Canada.
There is an agreement between Quebec and France and the French students pay the same amount as the Quebecers.
So if you go to University it will be about CAN$3,500 a year (around €2,000) and if you go to a CEGEP (three year degree, not really university but you can continue after at university), it is free! (see here what Elisa has so say about it!).
Unfortunately Canadian universities do not seem to recognize the "BTS".
Here is an idea of the budget you need: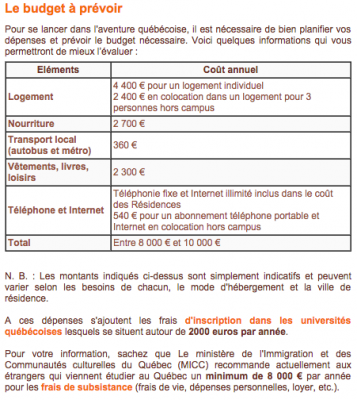 Loads of useful information here: http://www.etudierauquebec.fr/index.php
You should go to the information days they organize!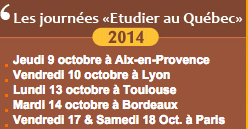 For Bordeaux it is at the CIJA and you need to register first!
For instance the University of Laval. Yes, she speaks French, but a lot of their programmes are all English (choose Montreal rather than Quebec).
  Language programmes.
There are language programmes in Canada and the US which are run by universities and really inexpensive.
If you want to improve your English and enjoy the American campus experience you should really try it. (here Thomas tells us more about it).
Add a comment